It all starts off with one friend browsing Instagram. He sees a scenic reel or picture of someone he knows wearing 4 layers of clothes while smiling amidst the snow-clad mountains. Their face is pale but happy, the sun is kissing the skies gently, and the entire landscape around them is blanketed in white. The friend finally sees the location tag, and instinctively blurts out something we've all heard wayyy too often before.
"Chal Manali jaate hain yaar"
Wanderlust takes over the entire group. Soon, everyone wants to take a trip to the mountains up north. They check their calendars, start looking for public holidays around the weekends, and finalise the dates. Everyone's excited now. Until one guy brings up the issue of travel.
Flights are always too expensive, but that doesn't matter, because most of us looovveee road trips. But the most common problem for an on-the-road journey from Mumbai to Manali is figuring out where to stop and rest along the way. Good, safe and sanitary hotels aren't easy to find, and if they are, they make you pay for the entire 24 hours. That'd be okay if it was for just one pit-stop on the way, but on a journey that spans across 2000 kilometres, you need 3-4 stops to stretch your legs out and get some rest.
Surprise surprise, this is where Brevistay's hourly hotels come in! Keeping your needs in mind, we've come up with the ideal schedule if you're road-tripping it from Mumbai to Manali for the first time. Every pit-stop is in a city where you can easily find our hourly hotels – that offer maximum safety, quality and privacy.
Toh bolo, chalein Manali?
Mumbai to Vadodara: 7-8 hours (~400 kms via NH 48)
Break At Vadodara: 3 hours
This is a good section to start your Mumbai to Manali journey with. The Mumbai-Gujarat highway is very smooth, and will give you proper road-trip vibes. Once you reach Vadodara, book one of our hotels for 3 hours, freshen up and get some rest. After this, off to Udaipur we go!
Click here to book our hotels in Vadodara.
Vadodara to Udaipur: 6-7 hours (~340 kms via NH 48)
Break at Udaipur: 12 hours
Stop #2 on our Mumbai to Manali road trip is Udaipur; a city full of peace, calm and serenity. Book a Brevistay hotel for 12 hours, and depending on when you get here, you can use that time to either explore the scenic city, or catch up on some much-needed sleep. If you find a moment, we recommend watching the sunrise/sunset by one of the lakes. It's full of magic!
Click here to book our hotels in Udaipur.
Udaipur to Jaipur: 6-7 hours (~400 kms via NH 48)
Break at Jaipur: 3 hours
After some well-earned rest, we're headed to the Pink City. This drive is quite smooth as well, and can be done within 5 hours if you get lucky with traffic. Once you reach Jaipur, it's another quick 3-hour stop for you to freshen up and (for the forever-sleepy ones) catch a nap if you need.
Click here to book our hotels in Jaipur.
Jaipur to Chandigarh: 7-8 hours (~480 kms via NH 152D)
Break at Chandigarh: 12 hours
We're almost there! We're looking at one more stop at one of the cleanest cities in India – Chandigarh. The weather is cool and crisp at night, whereas the city is spacious and well-planned. Stopping here for 12 hours is highly recommended, as you'll need to be well-rested for the last and most tiring stretch of the Mumbai to Manali road trip.
Click here to book our hotels in Chandigarh.
Chandigarh to Manali: 8-9 hours (~300 kms)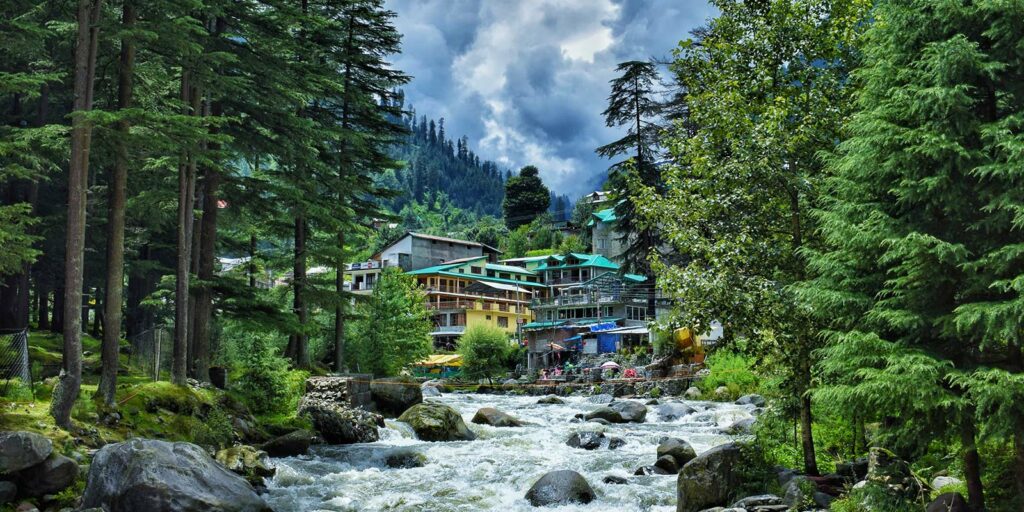 Stay at Manali: As long as you like!
After a slightly more fatiguing (but definitely safe) drive than the previous sections on the Mumbai to Manali route, you'll have finally reached your destination! Enjoy the unparalleled beauty and charm of the city, its exquisite food, and amazing destinations like the Rohtang Pass and Solang Valley. It has its own share of adventure sports too – the gorgeous landscapes around make it an unforgettable experience!
Recommended Mumbai to Manali Journey Itinerary (with timings):
Day 1
Leave Mumbai at 6pm
Day 2
Reach Vadodara at 2 am – freshen up/rest till 5 am
Leave Vadodara at 5 am – reach Udaipur at 12 pm
Spend the day resting at/exploring Udaipur
Day 3
Leave Udaipur at 12 am – reach Jaipur at 7 am – freshen up/rest till 10 am
Leave Jaipur at 10 am – reach Chandigarh at 6 pm
Rest at Chandigarh till morning
Day 4
Leave Chandigarh at 6 am – reach Manali at 3 pm
Upon reaching, take a mandatory group selfie with the mountains 🌄
Goa trips may or may not happen, but a Mumbai-to-Manali road trip is an ABSOLUTE MUST. We've all wanted to do it at least once. About time we make it happen!