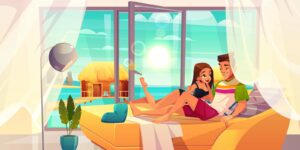 Holidaying is the most exciting feeling ever for unmarried couples. With all the planning and excitement the day of travel finally arrives. You have so many things to do, but you first want to reach the hotel, Imagine how annoying it would be to get interrupted during your hotel check-in.
Unfortunately, this is the worst experience of many couples who travel together. There is no legal basis for hotels to deny check-in to couples, but some hotels have a policy of not accepting unmarried guests or those having same city I'd .
At breviSTAY, we do not wish to discriminate between our married, single and unmarried couple. At the end of the day, a hotel owner has all the right to run his business the way he wants.(according to law).
We at breviSTAY believe there has to be a better way to communicate before booking – to avoid needless hassle and embarrassment at the time of check- in for every unmarried couple.
Our solution at breviSTAY:
"Couple-friendly hotels using the same city id" because "CoupleNeedPrivacy". You read that right. You can now easily find couple-friendly brevistay Hotels in a particular city by using your same city identity proof . you can easily filter by seeing couple sticker on every hotels those who welcome unmarried couples on same city I'd. This ensures that you do not face any interrogation or needless hassle when you arrive at your hotel. It also ensures your fast and safe check-in at the hotel without asking a single question. Every hotel at brevistay is having the hourly pack of 3h,6h,12h. with flexible check-in. pay only for the hours at hotels , We value your money and time.
Couple-friendly brevistay hotels are available across 8 cities in India including all major destinations.
So, say hello to your Partner in a better way and book couple friendly hotels in Delhi, Gurugram, Noida, Mumbai, Maysor, Ghaziyabad,Lucknow, and Haridwar. for more info visit-https://goo.gl/wbre9w
Cheers.!!