When Alfred, Lord Tennyson said,
"Tis Better to have loved and lost than never to have loved at all"
We all felt that!
The month of February, i.e Valentine's Month has a special place in every heart that has ever been loved. You might say that love cannot be bound to just one month, but celebrating it with the whole world is remarkable.
But sometimes, planning the perfect date or moment can be a little hectic.
The pandemic was a great hit for humanity. It took away love from so many people, which solidified the importance of celebrating and treasuring our partners.
So here's a list of couple things to do during valentine's month –
Get romantic matching tattoos
There is a reason why this is the first on the list. Undergoing physical pain to express your love is not a joke. Getting tattoos together is a big step, and when you are ready for it be sure to make it worth your pain.
Have a memory inked or something that reminds you about each other. The options are endless just like your love!
Watch romantic classics like Notebook or DDLJ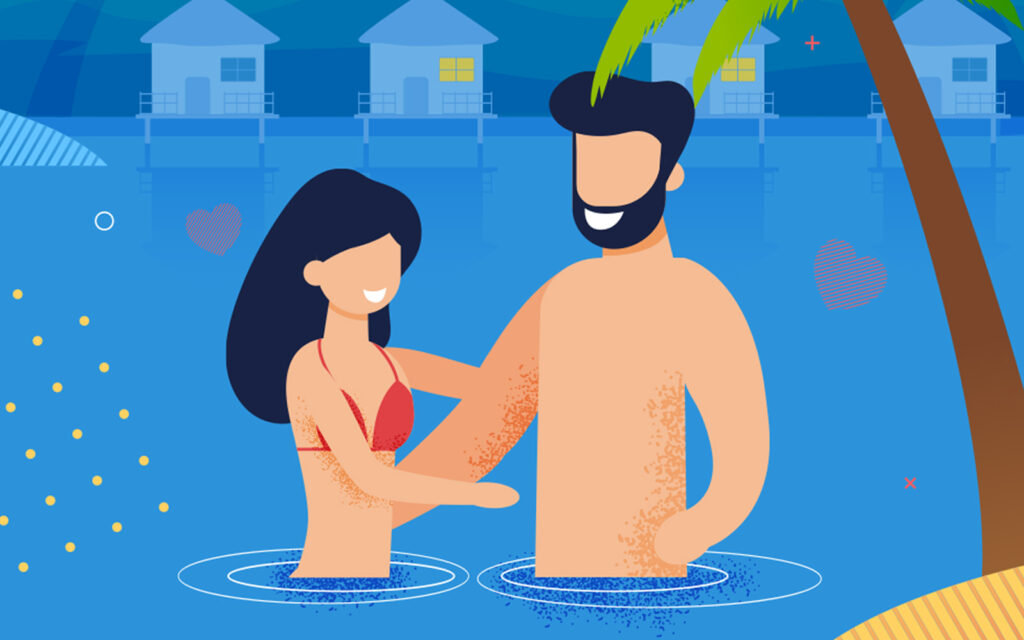 There are a lot of theaters around the world that screen romantic classics during the month of love. Take your partner and just lose yourself in the beauty of romanticism.
You even can go to a drive-in theater and snuggle up to watch Noah confess his love to Elle.
Go trekking
What is more beautiful than burning some calories with the love of your life? Wander in the beauty of nature and reach a destination you can cherish together.
After all, a couple that can climb hills together can beat any hurdle in life.
Go on a painting date
Here is another cute thing to try during valentine's month. Take two canvases and a timer. Start painting anything you want, and don't show it to your partner.
Simultaneously, set a timer for 5 minutes. Once the timer is up, exchange your canvases and now work on your partner's initial creation.
Interchange your canvases after every 5 minutes until your painting is done. Trust this idea, you will be amazed to see the final paintings. Frame this and you have a priceless memory right there!
Visit the place you first met
Memories trigger love.
Take your partner and try to recreate your first date or visit the place you met for the first time. Reminiscing those events will bring back butterflies in your stomach.
Have a staycation
If you and your partner want to have a day just embracing each other and staying together for some hours, opt for a staycation in your city. There are a lot of hotels that provide day-stay facilities for unmarried couples.
To book a safe, comfortable, and cozy stay, follow this guide.
Visit a holy place
Need some spiritual touch to your valentine's celebrations? Visit a dargah, church, temple, or gurudwara together.
Get blessings from the almighty and embrace the purity and divinity of love together.
Cook each other their favorite meal
Food is a love language for many individuals. When you put in the effort to make your partner's favorite meal, it is going to put the biggest smile on their faces.
You can plan a surprise candlelight dinner for them and enjoy that plate of pasta together.
Spend the day at any animal shelter
Puppies, cats, cows, goats, etc are all little adorable creatures that can make any day special.
So, think about making a perfect valentines day gesture by taking them to an animal shelter. Just make sure beforehand that they aren't allergic to anything.
Make it a concert date
Raise your hands, vibe to the music, and enjoy Valentine's day at a concert. Surprise your partner with tickets to their favorite band or singer's show.
A long drive to get the butterflies going
Hop on to that motorcycle or car and take your partner for a long drive along the beach, through the forest, or to explore a travel destination.
Here's an upgrade – Make it a weekend trip and spend some time doing touristy things with your love. Here's a list of some romantic weekend getaways to help you plan better.
Pamper your partner with skincare
Treat your partner to a full home spa experience.
Place some scented candles and pamper them with hydrating masks, warm baths, hand massages, or an exfoliating scrub.
Take them out for "kulhad wali chai"
If you are an old-school romantic, then going out for kulhad wali chai should be on top of your list. Just take them out to your favorite chai place and gossip over that cup of happiness.
Make a collage of your memories
Print out all your favorite pictures and make a collage.
Set up a memory wall where you can frame and hang them.
Do karaoke together
You can go out for karaoke nights or simply set up a karaoke station at home and enjoy the evening.
Sing your partner's favorite song and make them feel cherished. It's little things like these that can make valentine's month memorable.
Write each other love poems/letters
Make it a point to sit down for 30 minutes and write each other a love letter or poem.
In this age of texting, we still crave those handwritten letters. Describe why you love them and how important they are in your life.
You can get the letters and poems framed and hang them on your memory wall.
Go on a picnic
Another old-school date idea is to go on a picnic together.
Select a quiet hilltop or lakeside to spend valentine's afternoon in solitude. Carry your partner's favorite snacks and books. You can read their favorite stories and watch the clear February skies.
Watch the sunset by the beach
If you are spending your valentine's holiday near the beach then make it a point to not miss sunsets.
Take them out and hold their hands while watching the reddish-orange sun slowly submerge itself into the sea.
Sunsets are a symbol of stability. So, show your partner that no matter what you are always going to be by their side.
Get your hands on some pottery lessons
Want to get a little productive with your partner? Then book a slot for pottery lessons. Create a vase or anything and give it to your partner as a token of love.
Visit a fair/carnival
We blame the movies for making everyone fall in love with those carnival/fair dates. Go out with your partner and share cotton candy, kiss on the Ferris wheel, or shoot balloons together.
Get your picture taken at photo booths and have little polaroid memories.
Give adventure sports a shot
If you and your partner love adventure then look no further, book a day at any adventure sports arena. Go bungee jumping, dirt biking, rock climbing, scuba diving, hand-gliding, etc.
Surprise your partner with comedy show tickets
A comedy show will lift your mood and is an effortless way to make your partner laugh. It will be better if you can arrange tickets for their favorite comedian.
Visit a pretty cafe
There must be a lot of Instagrammable cafes near you. Take your partner there for a high tea or breakfast. It is a great way to get some pictures with a fantastic background.
A library/bookstore date
All the bibliophiles and bookworms assemble!
Take your partner out to a library or bookstore this Valentine's month. Share your love for literature, poetry, or nonfiction.
Gift books to each other and discuss the pieces you read over kulhad wali chai afterward.
Go flower/fruit picking
If you have any orchards or farms nearby that let people pick flowers, take your partner there.
You can get as many flowers as you want. Roses, tulips, zinnias- the options are endless.
Similarly, you can visit strawberry, orange, or apple farms and fill up your baskets with some fresh produce.
Try out your partner's favorite hobby
We don't love someone based on how they live their life. But when you take an interest in their hobbies and passions, it means a lot to them.
Figure out what your partner loves doing and give it a shot. If you are incapable of performing that activity, ask them to teach you.
Take trivia quizzes about your partner
How well do you know the love of your life?
Make a list of questions with 3 options and let them guess. Whoever answers fewer right questions, takes the other person on a shopping spree.
This trivia is going to bring you two closer to each other.
Go for a couple's massage
Not everyone feels like creating a whole spa experience at home. In such cases, you both can hit a couple's massage place. You can relax, and release all the stress and pain, all while still being together.
Solve a puzzle/crossword together
You both are partners in crime, so embark on a journey to solve a difficult puzzle or crossword together. It is like a little combat where you both are a team and the opponent is that hard puzzle.
Do a game night with your partner
Make a list of board games and have a game night. Pictionary, monopoly, UNO, etc are fun ways to spend time with your mate.
Make a cute reel together
Are you thinking of capturing some precious moments with your partner? Then jump on to the reel trend and make some videos that make people shout "couple goals"!
Order pizza and have a Harry Potter marathon
Raise your wands and pizza slices to say "Alohomora" folks. Why date like muggles when you are both wizards?
So what if the Hogwarts letter never came, get your robes and watch Harry and his gang rise from the ashes to defeat Voldemort.
Do a DIY project
Paint your bedroom wall, build a craft project, or assemble a coffee table. Do something that reminds you that being together is an actual blessing.
Bake a cake together
Baking is half science and half love.
The science part you can get from recipes but to get all the love in, bake a cake with your partner. Do it from scratch, and make your sponges and frosting.
Just remember to enjoy the process and create cute memories with each other that you can share with your kids one day.
Make cocktails at home
If you are an introvert or dating one, going out on dates is a little tricky.
So here's a tip – put on your favorite music, and get yourself a cocktail maker set. Shake, mix and pour drinks for your partner at home.
For all those who love to spend Valentine's day at home, here are some ideas to explore.
Play your favorite video games
Challenge your partner and do a face-off in your video game.
Playing together is fun but playing against each other is super appealing. You will also get to experience the competitive side of your partner if you never had seen it before.
Go wine tasting
Wine and love go well together. Locate a nearby vineyard hosting a wine-tasting session and take your better half for an exquisite experience.
Get to know all the amazing wine and food pairings that you can use for your next date night.
Take a train ride in the hills
Remember those toy train rides you used to take as kids? Well, as adults you can cherish that happy memory by taking your partner on a train ride as well.
Train lines around the hilly areas still give us those old coal engines and are one of the best ways to soak up all the beautiful scenery.
Walk hand-in-hand
Hold their hand and take a slow walk. Have deep conversations and let your partner know how much you love them. Walk through the city lights or on an empty road.
Stargaze together
Your terrace is a beautiful place to be at night. Lay down a comfy blanket and lie down with your partner.
There is some sort of happiness in stargazing and doing that with your significant other will only enhance the experience.
Figure out the constellations or make your patterns with the stars.
Go bird watching/jungle safari
Spend the day with birds, lions, rhinos, giraffes, and elephants. Experience the brilliance of mother nature.
There is some magic around animals otherwise why would Ranbir propose to Alia in the wilderness of Masai Mara?
Volunteer for a social cause
Bringing smiles to unprivileged souls is a fantastic way to spend a day of love.
There are so many things you can do like manage a fundraiser, volunteer in orphanages, promote climate awareness, etc.
Sharing your joy and love is a great date idea!
Make a couple's bucket list
Sit down and list things that you want to do together as a couple. A bucket list will help you understand the exact thing you both wish for in life.
Get a plant
If you have plans to live together or start a family in the future, try getting a plant.
Make it your priority to look after the plant and keep it alive. You can buy a flowering plant so that you can gift each other flowers anytime.
Dance your heart out
Plug in your home theater, turn on your favorite music, and dance with your partner. Twirl them around and have your La La Land moment.
While dancing you are yourself and carefree with your partner. Experts also say that while dancing your happy hormones are released.
Throw a party for your loved ones
Bring in friends and family to celebrate your love. You can arrange all your favorite foods and memories to share with your loved ones.
Tell them stories about how you met and just have a wonderful evening full of life, love, and laughter.
Just in case you are looking for a place to throw such a party, Brevistay has some amazing short-stay hotels to help you with eye-catching venues.
Netflix and chill
This sounds like a Gen-Z-ish date idea but there is a reason why it is so popular.
Gone are the days when people would say" anything can happen over coffee"; now anything can happen over Netflix.
Be in your pajamas, and lean over your partner on a comfy couch. Put on a Netflix show or movie and chill.
Start learning a new skill together
Learn a new language, martial arts, a musical instrument, or any sports you like. This way, you always have a person to encourage and compete with you.
Release a bird kept in captivity
Locate a bird that has been kept in a cage and try to find ways for its release. Love is freedom; when you give that to a living being, you will get a lot of blessings in return.
Make each other love bands
Make identical bracelets of beads and wear them everywhere possible. Show the world that you are taken by flaunting these love bands.
The list is amazing. Just ensure that you do not force your partner into something that they don't like. Valentine's month is all about loving your partner for who they are and expressing your true self.
If you're looking for a romantic getaway, consider checking out hourly hotels in your area. Many cities have these types of hotels that offer a private and intimate setting for you and your partner to celebrate your love.